Igi Lola Ayedun exhibits for the first time in Germany at WESERHALLE with her solo show "Woman of colour y otros clichés". The Brazilian artist delves into her study of the colour blue with a new series of paintings recently produced in São Paulo.

A digital retinal scan taken from Ayedun's own eye has been used as a starting point for this body of work, creating abstract forms that guide us through foreign galaxies. Entering the exhibition the viewer is submerged in a world of Ultramarino and Indigo blue in which the different textures of the paintings recall forgotten ancestral knowledge combined with the ability of envisioning new futures.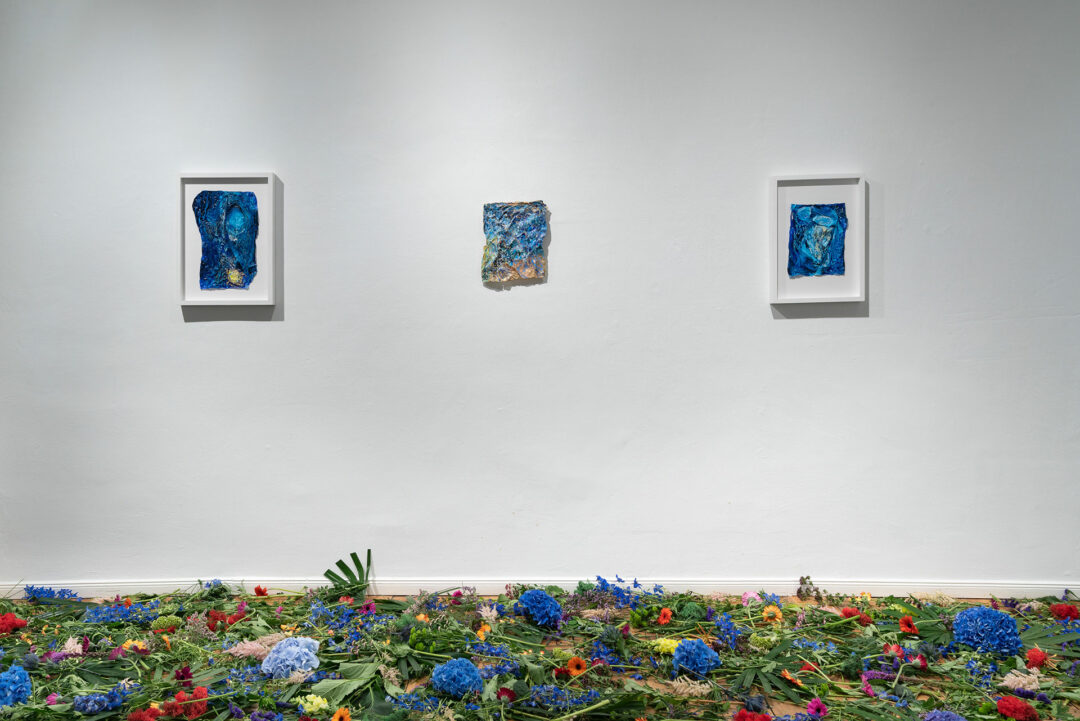 The latin name Ultramarinus (beyond the sea) references the overseas trades between Afghanistan and Egypt during 14th and 15th century and its distinctive vibrant colour is obtained by grinding lapis lazuli into powder. The indigo blue has been of exceptional importance throughout history to diverse civilisations, with evidence of its cultivation dating back to 4000 BC. Ayedun's dive into this colour stems from her understanding of non-western painting techniques and human history that precedes Europe as protagonist and storyteller. She reclaims the colours' significance as a transcendental visual memory throughout time and cultures that precedes euro-colonisation of the global south.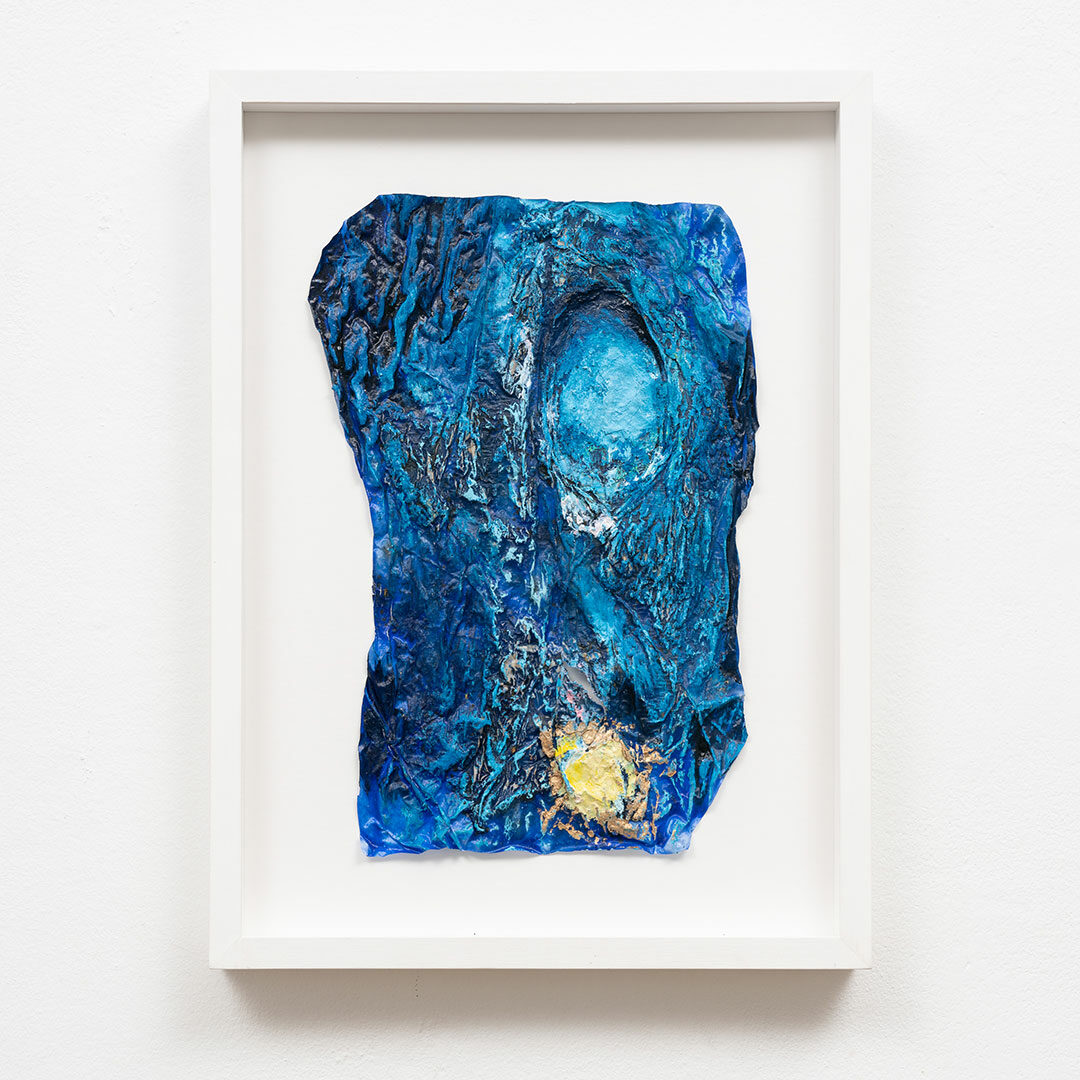 Ayedun applies this transcendental concept to her materials by creating hybrid forms, introducing attributes of digital topography onto artisanal pellicles. In 2019, she set out to make her own canvas from vegan materials. She uses a mix of argan oil, butter paper, oil painting, corn paste and latex to manipulate the surface, bringing the digital landscape into the physical. Her experimentation with pigments and texture form together to create future artefacts, from planets still unknown where more advanced species inhabit; perhaps without identitarian agendas;

In times where neoliberal identitarian politics have become the norm to be consumed, how much freedom is allowed to artists who belong to the global majority to reflect their own subjectivity? How much space has been given to racialised people to reflect on their own thoughts and desires, dreams and fears without being affected by these categorisation conditions?

Text by Arantxa Ciafrino.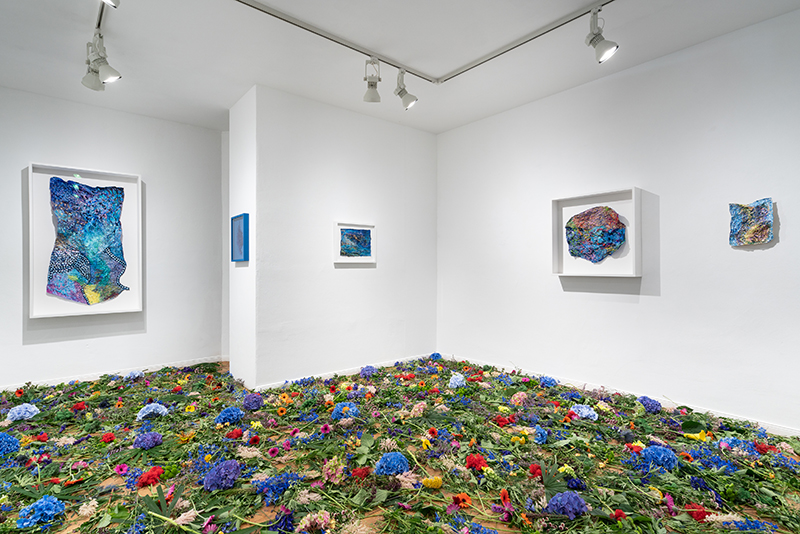 ---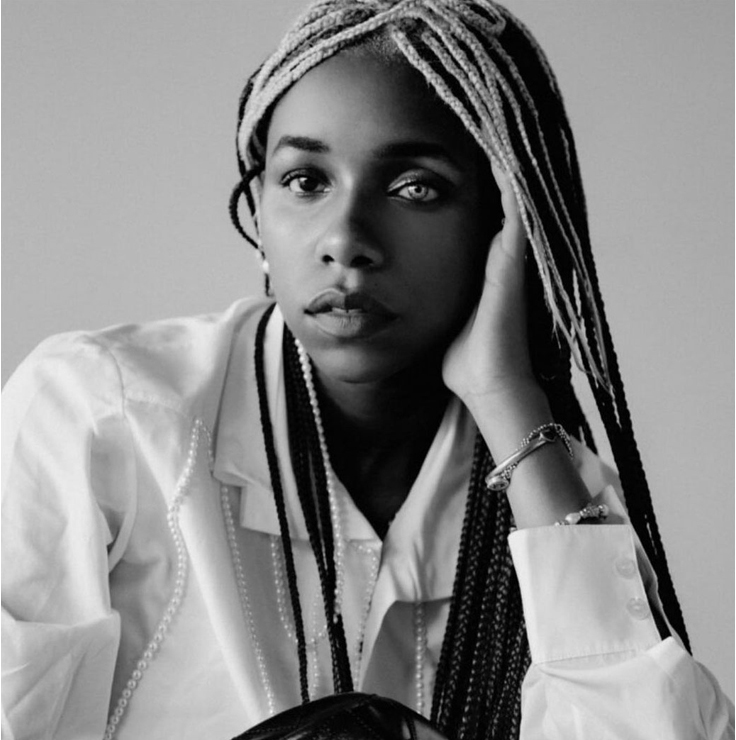 Igi Lola Ayedun (B.1990, São Paulo – Brazil) is a multimedia artist and gallerist who works with painting, video, 3D digital sculpture, photography and sound. Founder Director of HOA, an organisation dedicated to a decolonial perspective of latinx contemporary art focused on artists from the global majority. Her artistic practice is guided by the cultural and biological potential of colours, in particular the colour blue is taking centre stage of her current research as she explores the global routes of indigo, the lapis lazuli historical legacy and power of minerals in order to rebuild life-cycles through the artistic materiality itself and her dream's emotional-visual descriptions.
Her work has been shown at MAR – Museu de Arte do Rio de Janeiro (2022), Mendes Wood DM Brussels (2022), Pinacoteca de São Paulo, São Paulo (2021), Christie´s Rockefeller Plaza, New York (2021), Instituto Tomie Ohtake, São Paulo (2020), ETIÓPIA Centro de Arte y Tecnologia, Zaragoza (2019), Galeria Baró, São Paulo (2019), Espaço Breu (2018), Konvent 0, Barcelona (2018), SP-Arte Performance (2018), Teatro Oficina, São Paulo (2017) and Oficina Oswald de Andrade, São Paulo (2009). Ayedun believes that the juxtaposition of ancient and contemporary technologies is a spiritual way to preserve African ancestralism to the future.