In her solo exhibition "Zähneputzen ist nicht schwer" at Weserhalle, Larissa Rosa Lackner presents the latest works from the "Ok bin da" series. The artist portrays everyday scenes that exist on the edge of tension and release, featuring the central figure, herself, her actions, and her surroundings.
The exhibition's title mirrors the dilemma faced by the figures in Lackner's works. Mundane tasks like brushing one's teeth are meant to be easy, or so they should be. But does that automatically make them so? Is it acceptable if they're not easy? And who gets to pass judgment on this, if anyone at all? In her works, the viewer becomes part of this confrontation with everyday life, at times as a welcomed guest and sometimes as a seemingly intrusive presence. Lackner elicits empathy for those moments when one's mind revolves around oneself, and desires, constraints, and releases unfold individually. This series originated during the COVID-19 pandemic, driven by the artist's experience of isolation and their inability to continue working as a photographer.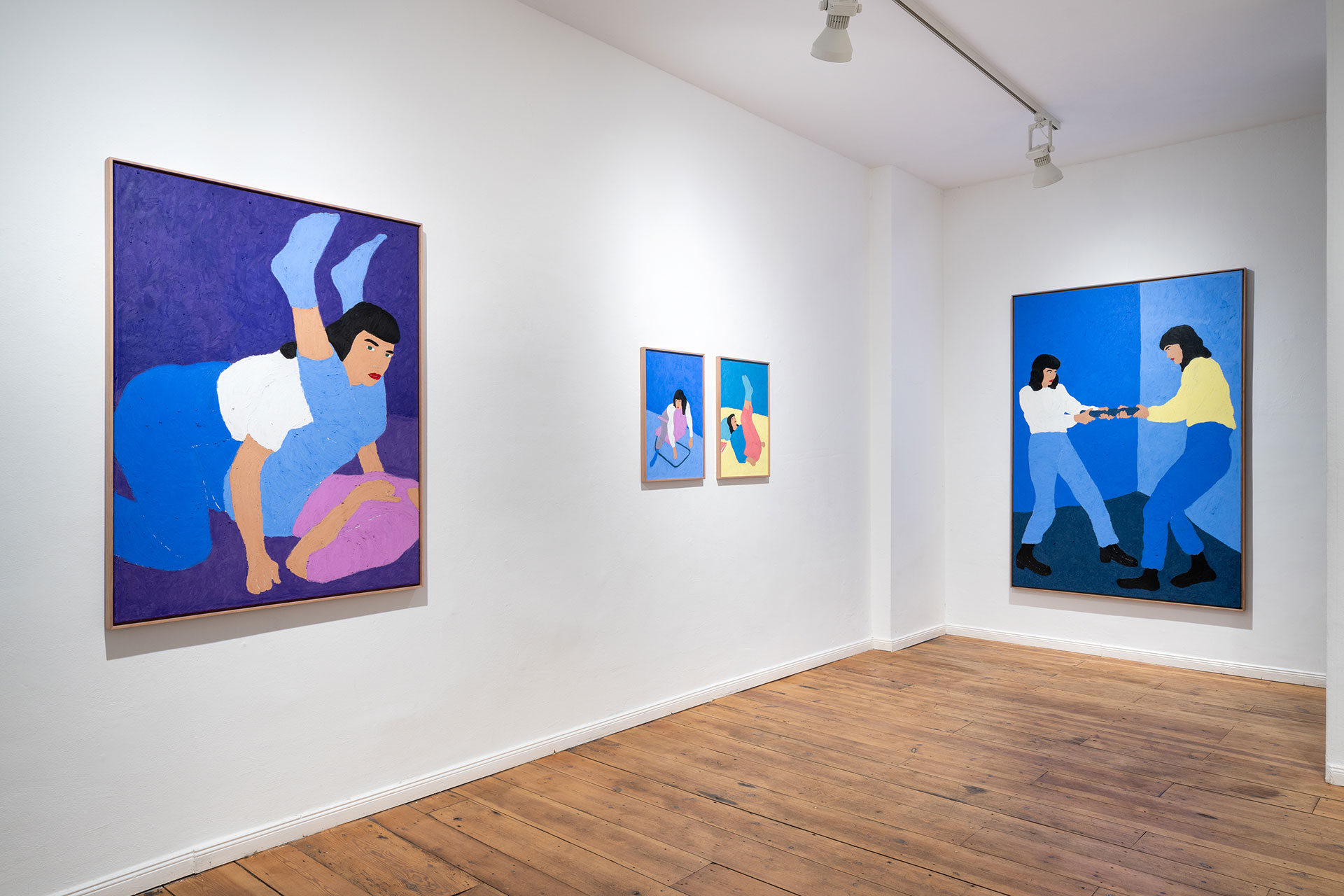 Lackner's experience as a photographer informs her works by approaching the central figure in a serialised manner, resulting in a sense of narrative. Depending on where the viewer starts within the series, a fresh story is composed. Perspective, the figure's posing reminiscent of a model, and a snapshot aesthetic are also photographic attributes that Lackner effectively employs to establish an unfiltered proximity to the figure. Yet, this closeness is simultaneously shattered. As writer Ferial Nadja Karrasch aptly puts it in her essay "In Suspension: The Imagery of the Series ok bin da," "in spite of the direct glances Lackner's figures give us, they mostly remain inaccessible, they refuse – almost defiantly – to reveal too much of themselves." Karrasch further notes, "Participating and yet being excluded – in this context Lackner also refers to the everyday experience of using social media, which can be pleasurably voyeuristic but also painfully isolating."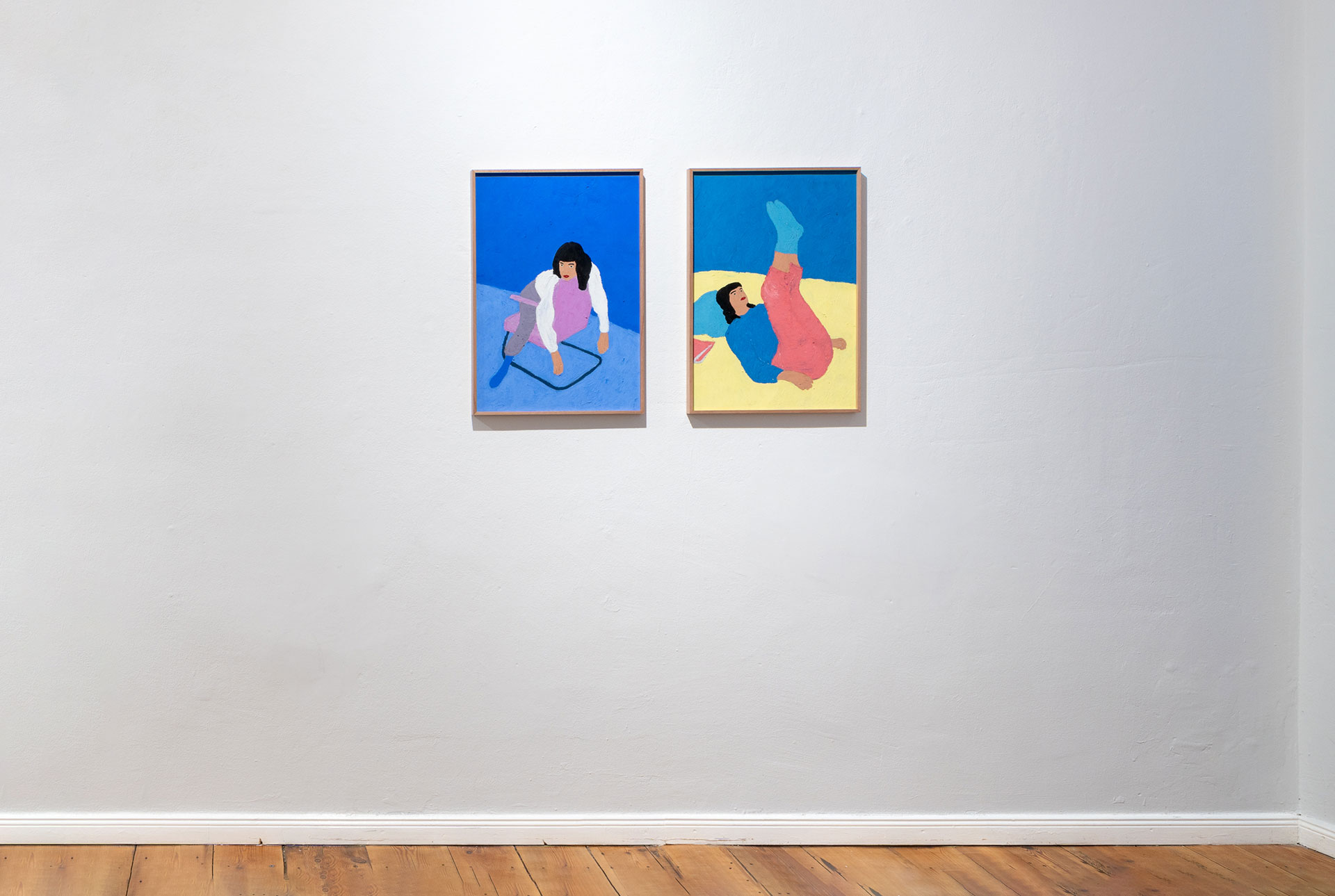 It's akin to a social media feed, where the figure is overexposed to our gaze without achieving genuine intimacy or closeness. The figure maintains control and sustains tension. Karrasch continues, "The atmosphere of individual images often shifts as the viewer's examination progresses, sometimes veering in the opposite direction and thereby leading to an entirely different narrative. It's up to the viewer to see the story through to its conclusion." Lackner amplifies this contrast through her painterly approach in her works. Behind the bold strokes of oil pastels, the sharpness of the snapshot softens. The direct gaze and the motionless facial expressions… are they truly there? The initial rigidity is transformed into dynamism by the flowing surface, revealing the rapid movement of the painting process. Lackner stages this interplay between stillness and movement within abstracted interiors aglow with vibrant colours. The choice of colours suggests lightness, but the almost complete absence of the outside world hints at a touch of claustrophobia, unsettling the supposed levity of the moment once more.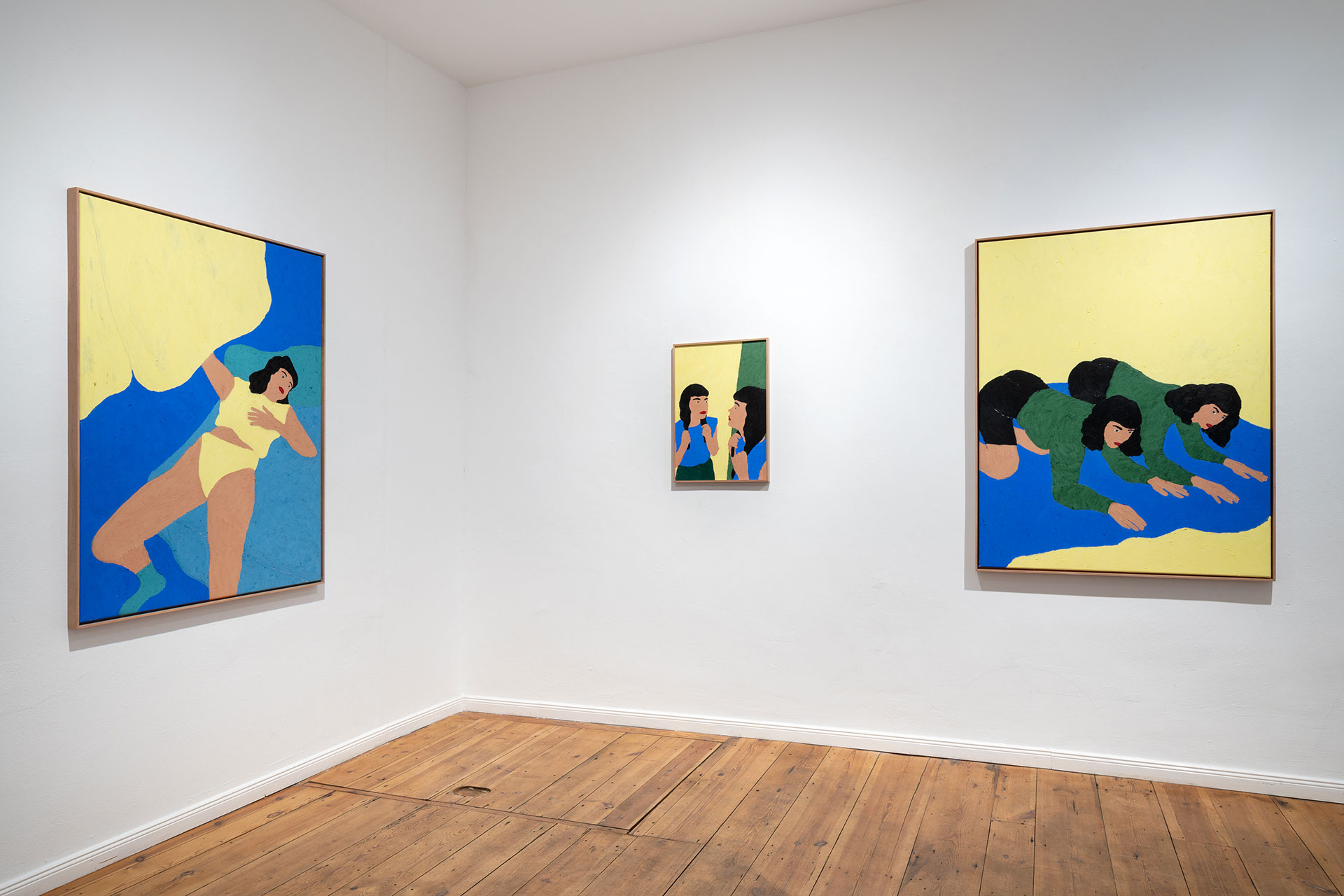 Lackner's everyday scenes are simultaneously heart-rending, humorous, celebratory, and vulnerable. They illuminate the ambivalence of daily life, showing that dealing with it is not always as straightforward as it seems. Her works are a bit like brushing your teeth. A moment of unpretentious introspection.
---
Larissa Rosa Lackner, born in 1987 in Nuremberg, lives and works in Berlin. She studied fine arts and photography at the Academy of Visual Arts Leipzig and continued her studies in photography at the University of Applied Arts Vienna. Her artistic work has been recognised in various exhibitions, including "Ok bin da" at Galerie Ortloff Leipzig, and has been honoured with awards such as the Karl Schmidt Rotluff Stipendium 2022 and the Nachwuchs-Förderpreis für Bildende Kunst des Landes Brandenburg 2020. In 2023, she will present her works at Kunsthalle Düsseldorf. Her most recent exhibitions include, Ok bin da, Galerie Ortloff, Leipzig (2022), Finalists of the Karl Schmidt Rotluff Scholarship, Brücke Museum, Berlin (2022) and Du mir auch, The Gimp, Berlin (2021).