"Make your Apartment into an Art Flat", is the latest offering from Weserhalle's current exhibition; Da Silva Brokers Art House (DSBAH), a multimedia art installation by Anton Steenbock. DSBAH offers landlords the opportunity to circumvent the Mietpreisbremse (rent brake) by furnishing their flats with Berlin's capital asset, contemporary art, and earning up to 40% more return above the legal requirements with only 7% VAT.

To this end, Weserhalle has been transformed into a commercial salesroom, which—with its furnishings, uniformed staff and corporate identity— is strongly reminiscent of the showrooms of large real estate projects sprouting up in Berlin. The showroom is updated weekly throughout the exhibition highlighting a new artist working within the DSBAH network, providing an example of how your apartment can look if it was to be turned into an Art Flat.

Parallel to the exhibition, an extensive advertising campaign has been launched in the digital and public space, all of which is tied together neatly by a specially designed DSBAH website housing promotional videos, Art House plan details and the ability to book showroom visits.

DSBAH offers a critical look at the current housing situation in Berlin and the dramatically intensifying conflict between real estate companies and residents.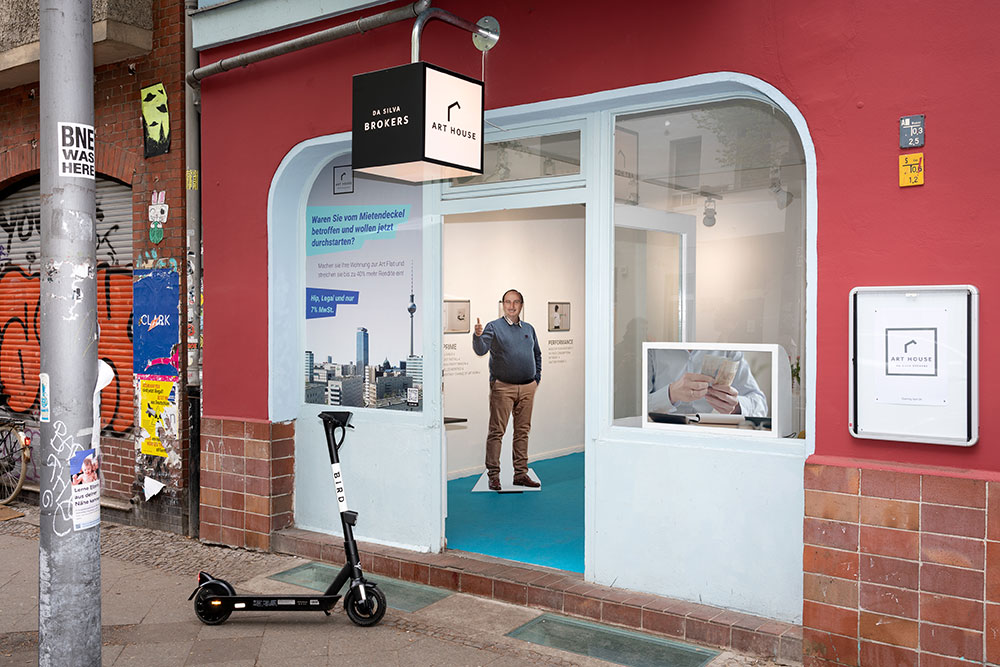 Project background
DSBAH is the continuation/part of a long-term project by Anton Steenbock, launched in 2010 under the name Da Silva Brokers, consisting of fake architecture campaigns, showrooms and widely distributed propaganda aimed at creating political awareness of urban and environmental change in hotspots such as the 2014 World Cup and the 2016 Olympics in Brazil, as well as corporate takeovers in public space such as Google Street View and sharing economy apps such as Uber, Coop and AirBnB.

In addition to his individual work, Anton Steenbock has a strong focus on collective approaches. He is co-founder of Gazua, an artist-run exhibition platform in Rio de Janeiro, was tutor of the Freie Klasse Berlin from 2006 – 2010 and together with Peter Behrbohm forms the artist collective SONDER.

Recent Exhibitions; Martin Gropius Bau Berlin (2020), Forecast Forum Berlin (2019/2020), Künstlerhaus Frise in Hamburg – Germany (2019).